Last Updated on September 1, 2023 by Lori Pace
Parents are choosing to use natural detergents and non-toxic cleaners. They also prefer safer food options. There is a lot of confusion when it comes down to choosing the right baby safe paint for cribs. Here are some things you should know about shopping around for nursery paint.
There are many paints available today that contain toxic chemicals or substances that can be harmful if inhaled or swallowed by children. There are many safe options that are safe for babies, provided you are aware of where and what to look for. 
What Should You Avoid When Purchasing Baby Safe Paint for Cribs?
It is important to know the most common paint safety factors so that you can choose baby safe paint for cribs. Parents are looking for safe paint that does not contain volatile organic compounds (VOCs). These VOCs are dangerous because of the following:
Can be released into the atmosphere from paint substances, and are the main reason paint has such an unpleasant odor.
Have long-term and short-term health effects on people who inhale them. VOCs can cause irritation to the eyes, nose, throat, liver, kidney, and other organs.
Indoors, VOCs can be much higher. That's why Low or zero VOC paint should be used for baby cribs. Infants often spend a lot of time in cribs that are designed for them. This can expose them to paint for long periods of exposure. Water-based paints and milk paints are great options for zero VOC paint.
You might also want to avoid alkylphenol-ethoxylates. Nonylphenol and octylphenol are examples of APEs. These substances are also common in surfactants, other than paint. These substances are strongly suspected to be endocrine disruptors, substances that can disrupt the body's natural hormonal cycles. They are linked to developmental, reproductive, brain and immune problems, as well as other health issues. It is best to avoid products containing endocrine disruptors in close proximity to infants. You should also be seeing more products labeled "BPA free."
Is it Safe To Paint The Nursery While You're Pregnant?
You might not want to paint your nursery or furniture if you are pregnant. It may not be low- or zero VOC paints, but it is safer to have someone else do it. Let the room air dry until it is completely dry before you enter it.
Reducing Air Pollution in the Baby's Nursery
When designing your nursery for your baby, the first thing you should consider is the air quality. The air quality of the room can be affected by everything in it, including: Wall paint, Furniture, Flooring material, and Other objects in the space
Indoor air pollution poses a serious threat. Indoor air pollution can cause many health problems, especially for babies and young children who are still developing. You can create a safe, clean environment for your child by learning about the factors that affect indoor air quality. Indoor air pollution is most commonly caused by:
Mould and dampness
There are many chemicals in furniture and paint that can be used to make it look better.
Carpets
Cleaning supplies and dust mites
Eight Baby Safe Paint for Cribs
Country Chic Paint
A chalk paint you might consider is Country Chic. Country Chic chalk paint is a great choice for home and furniture décor. Country Chic paints are non-toxic and safe for the environment without sacrificing quality.
The paint comes with a primer and a topcoat which helps it become easier to apply and less time consuming. You won't need to prepare the surface using sandpaper, you can simply clean the surface to be painted. You'll get a smooth, chalky, and matte finish if you allow it to fry for 30 minutes. There's also no need to worry about harmful chemicals, it's also low in VOCs which makes it virtually odourless.
Country Chic has a large selection of 55 colors available, so parents can paint their baby's cribs any color they like.
FolkArt Home Decor Chalk Paint
FolkArt acrylic paint and wax for home decor is a quick drying paint. This paint is popular because it can be layered and then sanded down. This is the paint that parents choose when furniture needs to look distressed.
You can easily apply this paint because preparations are not needed. An ultra-matte chalk finish is the result and you can rely on a one coat application. This paint can help add texture and color to your furniture. The paint is water-based and non-toxic.
The nursery offers over 50 colors so parents can express their creativity. You can purchase different sizes and bundles with a variety of colors.
General Finishes Water Based Milk Paint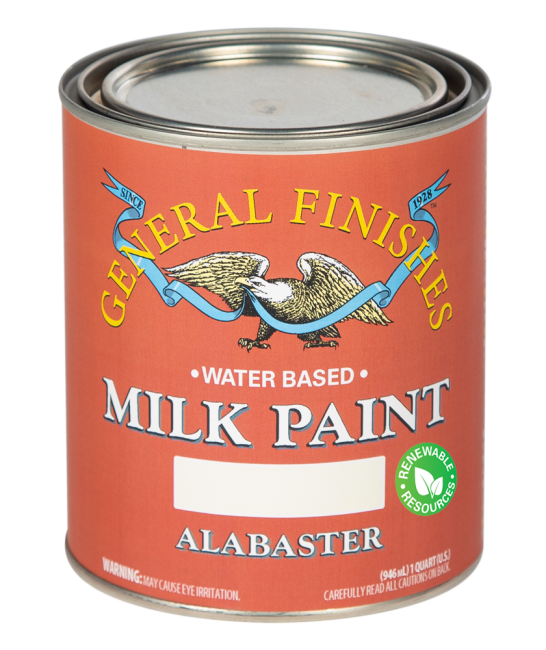 The Water Based milk paint from General Finishes may be the right choice for you if safety and environmental consciousness are important to you. This exterior mineral-based paint is self-sealing and known for its low-luster shine.
The paint is high-quality and has low VOC, which makes it safe for babies. It's mostly for exterior purposes but you can still use it indoors. Its goal as an exterior paint makes it resist UV, water, and scratch.
Although the product's name says "milk paint", it is not a genuine type of milk paint as it does not contain any milk proteins. It should be fine for furniture in the nursery. You can purchase this paint in gallons, quarts or pints. There are over 30 colors available, so parents won't have any trouble finding the one they love.
Old Fashioned Milk Paint
Milk paints are a great choice if you're looking for a low-VOC type of paint. The Old Fashioned Milk Paint is a great option. Milk Paint claims the Old Fashioned Milk Paint is the first milk paint that was commercially available and still uses the exact same formula it used in 1974.
This is the true milk paint because it contains casein. The powdered paint gives you the freedom to control its thickness and how it should be mixed. A true milk paint means it's non-toxic and is safe for babies, the environment, and food. However, there will be a slight milky odor once you apply it. But don't worry as it will become odorless once its dries.
There are many colors available. Powdered paints allow you to mix and match colors to achieve your desired shade. True milk paint can crack and chip over time. This is what some people like to achieve that vintage look. Some parents may be concerned about their children ingesting the paint chips. This milk paint is safe for food, but parents can still use some wax or sealant to stop chipping.
Retique It by Renaissance Furniture and Cabinet Paint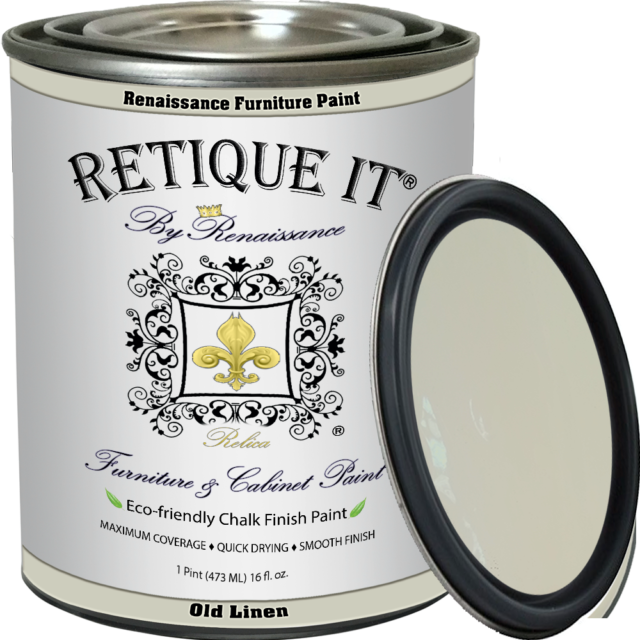 When choosing paint for nursery furniture, including cribs, the chalk finish paint from Renaissance Furniture Paint should be considered. It was designed to protect the family and the surrounding environment. This paint is popular with parents for many reasons.
This paint does not need any surface preparation such as sanding, stripping down, etc. Therefore, it's easy to use and has a super smooth, chalky finish. The paint cannot be scratched by your fingernail and is hypoallergenic. A good thing about the paint is that it's also non-toxic and has no VOCs.
There are three options: gallons, quarts and pints. A deluxe kit could include a quart, quarts, or gallons of paint. Parents can also choose from over 40 colors so that the crib matches the nursery.
Rust-Oleum Chalked Ultra Matte Paint
Rust-Oleum is a well-known brand for paints. A wide range of paint products are available from the brand, including a chalked super matte paint which can be used in your baby's crib. This paint is able to enhance your home decor with its superior adhesion. These are just a few reasons to consider this brand.
One coat of paint can cover approximately 150 sq. ft. which would only need light scratching of the surface for application. It has a velvety smooth finish that can be distressed to provide a vintage feel. A good thing about this paint is that it's water-based and has low odor.
You can't go wrong with a classic chalked super matte paint, even though there are only 10 colors available. This product is only available in 30 oz. Cans are fine, but they should not be used for a crib.
Rust-Oleum Milk Paint Finish
Rust-Oleum Milk Paint Finish is another great Rust-Oleum product to consider for your baby's crib. The Milk Paint Finish is great for decorating and home furniture.
The paint has a subtle matte finish with light texture, and due to its ingredients, chipping won't occur. You can also apply it with minimal preparations. The paint is water-based and has low VOC. The Milk Paint Finish is only available in six colors, so parents may not be able to express their creativity.
Miss Mustard Seed's Milk Paint
It's impossible to go wrong when you use milk paint on a baby's crib. Miss Mustard seed's Milk Paint is easy to use with raw wood or minimal preparations.
The paint provides great coverage which can cover 70 sq. ft. It also only contains natural ingredients, and that makes it safe and reliable. However, it does not include a sealer, that's why it's best to apply a second coat of wax.
Miss Mustard Seed's milk paint has a sufficient selection of 26 colors. Additional products can be purchased from the same brand, including hemp oil, furniture wax and white wax as well as tough coats.