Last Updated on July 17, 2023 by Lori Pace
Are you concerned about the safety and well-being of your children in today's fast-paced world? In emergencies, having a reliable tool to ensure their protection is crucial. That's where emergency phones designed specifically for kids come into play.
These phones are durable and user-friendly and offer long battery life and even parental control features. In this article, we will explore the best emergency phones for kids that provide the utmost protection, safety, and support that every parent desires for their child.
Regarding emergency phones for kids, several options are available that cater to their unique needs. The Gabb Phone Z2, KidsConnect KC2, Pinwheel Smartphone, Lively Jitterbug Flip 2, Relay+ Screenless Phone, VTech KidiBuzz G2, and Nokia 3310 are some of the top choices on the market. These phones offer simplified interfaces, allowing children to contact parents easily and trusted adults for help. They also serve as a lifeline when children cannot speak for themselves.
Stay informed about what to look for when buying emergency phones for kids, and discover the reasons why getting your kids an emergency phone is a wise decision. 
Why You Should Get This:
The Gabb Phone Z2 is a great option for parents looking for a kid-friendly emergency cell phone that allows children to stay connected with their loved ones in times of need. This phone is specifically designed with safety in mind, as it doesn't have internet access or social media capabilities, ensuring that children won't be exposed to inappropriate content.
The Gabb Phone Z2 also has unlimited text and calling capabilities, allowing children to communicate with their parents and trusted adults. In case of emergencies, the phone is equipped with an emergency button that children can press to contact their parents quickly. Additionally, the phone has excellent battery life, ensuring that it'll last throughout the day.
The downside:
Gabb Phone Z2 is that it is not water-resistant. So, remind your kids not to get this device wet.
Price: $99.99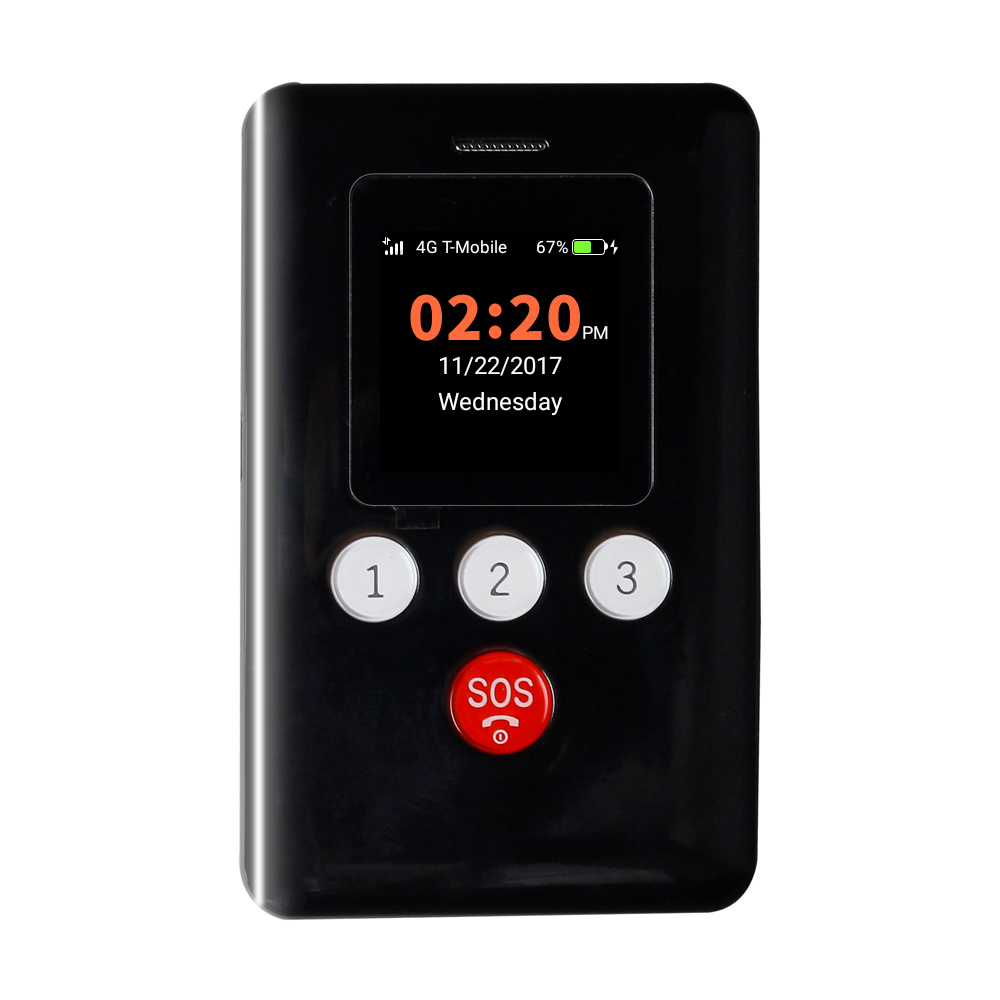 Why You Should Get This:
The KidsConnect KC2 is an excellent option for parents who prioritize safety and want a reliable phone for their kids. With its parental control features, you can program the contact list and arrange the numbers by call preference. The location tracking feature also allows you to monitor your child's whereabouts in real time.
The SOS feature of the phone will send an SMS with the GPS location to up to 3 cell phone numbers. At the same time, it will also auto-dial the designated numbers in the SOS list until it is answered.
The downside:
KidsConnect KC2 has a very limited user interface. It does not have app capabilities. However, this can be an advantage for parents who wants better control over their children's exposure to unnecessary content. 
Price: $199.99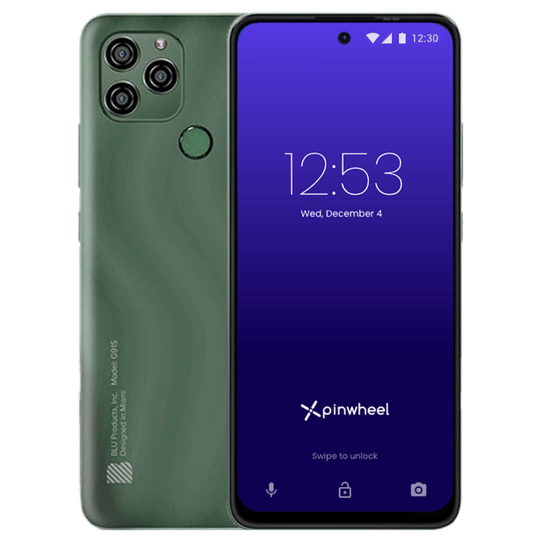 Why You Should Get This:
Need a smartphone that keeps your child connected and safe? Take a look at the variety of Pinwheel smartphone models! This phone for kids can provide the ideal device to ensure your child's safety in emergency situations.
With its built-in emergency services feature, your child can easily contact help when needed. The Pinwheel smartphone also offers parental control options, allowing you to set boundaries and keep your child safe. You can manage to pre-approve or disable apps and monitor phone activities to ensure your child is using the device responsibly.
The downside:
Pinwheel Smartphones can be expensive. Apart from the phone device, you must also pay the subscription fee and cell service.
Price: Starts from $199 to $499 (Plus subscriptions and cell service fees)
Why You Should Get This:
The Relay+ screenless phone offers a unique communication solution for kids. It provides them with a way to stay connected and safe during emergencies. This phone does not have a traditional screen but instead functions as a GPS walkie-talkie-style device. It allows children to communicate with their parents and trusted adults through voice messages and an emergency button.
The Relay+ phone connects to a cellular network, providing reliable cell service. It also offers real-time location tracking, allowing parents to monitor their child's whereabouts. Parents can choose the best option for their family's needs with various phone plans available.
The downside:
Relay+ Screenless Phone offers very basic and limited features compared to other kid's phones within the same price range.
Price: $149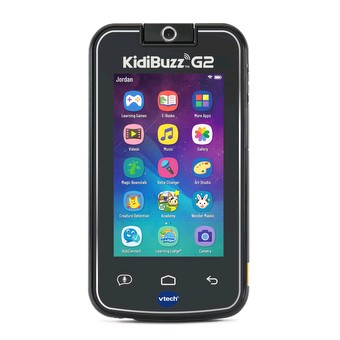 Why You Should Get This:
Discover the VTech KidiBuzz G2, a smart device designed specifically for your child's entertainment and communication needs. The VTech KidiBuzz G2 is part of VTech's range of products catering to children's phones.
This phone is your best choice if you want a device with communication and entertainment features simultaneously. VTech KidiBuzz G2 offers many fun features, including a built-in camera, music and video capabilities, and preloaded learning programs. Nevertheless, it also allows parents to control the contact list and programs to ensure their child's safety and security.
The VTech KidiBuzz G2 also allows your child to communicate with pre-approved contacts through text and photo messages. Its intuitive design makes it easy for your child to navigate and use the device.
The downside: 
VTech KidiBuzz G2 is not intended to be a cellphone. Instead, it can only send out basic text, voice, and photo messages, which can also be significantly helpful in times of distress.
Price: $174.99 
What to Look For When Buying Emergency Phones for Kids
When buying emergency phones for kids, you should consider several key points.
Features
With their durable build, simplified interface, and long battery life, emergency phones like the Gabb Phones and KidsConnect provide essential features for ensuring the safety of children in times of need. These emergency phones for kids allow them to make phone calls to their parents and trusted adults when they require help.
Additionally, they offer features that address concerns such as screen time usage and the need for parent-approved contacts. The phones also provide educational games to keep children engaged and entertained.
Moreover, consider a phone that doesn't require an internet connection, as this eliminates the risk of your child stumbling upon inappropriate content or getting distracted by online activities. Opt for a cell phone with a simple and easy-to-use interface, allowing your child to quickly and easily make calls in emergencies.
Safety-wise, these phones are equipped with GPS capabilities. Location-based services are vital as they allow parents to track their child's whereabouts and provide additional protection.
Product Quality
Regarding emergency phones for kids, product quality is of utmost importance. You want a device that can withstand the wear and tear of daily use, ensuring that it will be there for your child when they need it most. Look for a mobile phone that is built to last, with a shatter-free screen and solid build quality that can withstand accidental drops and bumps.
While some advanced features can be beneficial, finding a balance and choosing a phone that focuses on the essential functions needed in emergencies is important. Remember that a phone with long battery life is crucial, ensuring that your child will always have access to a working device when needed.
Value for Money
Ensure you get the most out of your budget by finding an emergency phone with great value for your child's safety needs. Regarding phones for kids, it's important to consider the monthly plan and overall device cost.
While a full-blown smartphone may seem appealing, it may not be necessary for your child's safety. Parents can find peace of mind by opting for a more affordable and functional smartphone that meets their child's needs without breaking the bank.
It's also worth considering the type of device that is compatible with major carriers, as this can affect the monthly plan and coverage options. Additionally, be cautious of hidden costs, such as in-app purchases, which can quickly add up.
Customer Feedback
Customer feedback can provide valuable insights into the user experience and satisfaction with their chosen phone for their child. Regarding emergency phones for kids, customer feedback is particularly important as parents want to ensure that their child has a reliable and efficient device in case of emergencies.
The feedback often focuses on the phone's durability, battery life, and ease of use. Parents also appreciate phones with features like contact management and location-based services, allowing them to track their child's whereabouts easily.
Additionally, customer feedback often discusses the phone's compatibility with third-party apps and various service plans offered by different wireless carriers.
Customer feedback is crucial in helping parents make informed decisions when choosing the best emergency phone for their children. 
Reasons Why You Should Get Your Child An Emergency Phone
One compelling reason to get your kids an emergency phone is that it can provide them with a sense of security and peace of mind. With an emergency phone, your kids can easily reach out for help in case of an emergency situation. They can quickly contact you or emergency services and get the necessary assistance they need.
This can be particularly useful when they are alone or in unfamiliar environments. An emergency phone can also help teach your kids about responsibility and independence. By having their own phone, they can learn how to use it responsibly and understand the importance of being prepared for unexpected situations.
Overall, an emergency phone for kids can be a valuable tool that provides a sense of security and helps them develop important life skills. 
Frequently Asked Questions
What are the parental control features of the Pinwheel Smartphone?
The Pinwheel smartphone offers a variety of parental control features, allowing you to monitor and manage your child's phone usage. These controls include app restrictions, screen time limits, and the ability to block inappropriate content.
How does the VTech KidiBuzz G2 differ from a regular smartphone?
The Vtech Kidibuzz G2 differs from a regular smartphone by being specifically designed for kids. It has built-in parental controls, limited access to the internet, and pre-approved apps to ensure a safer online experience for children.
What is the battery life of the Relay+ Screenless Phone?
The battery life of the Relay+ screenless phone is up to 2 days. It is important to note that battery life may vary depending on usage. 
Conclusion
In conclusion, when it comes to the safety and well-being of your child, investing in an emergency phone designed specifically for kids is a wise decision. The market offers various options catering to different needs and preferences.
From the durable and simplified Gabb Phone Z2 to the feature-packed VTech KidiBuzz G2, there's something for every parent and child.
These emergency phones don't just provide a lifeline for children during emergencies, but they also offer peace of mind for parents. With long battery life and parental control features, parents can control their child's phone usage and ensure their safety.
In today's fast-paced world, having an emergency phone for your child is necessary. These phones provide the protection, safety, and support that every parent desires for their child. By investing in one of the best emergency phones for kids, you can ensure that your child is equipped with a reliable lifeline during emergencies. So, make the smart choice and give yourself peace of mind knowing that your child is safe and protected.